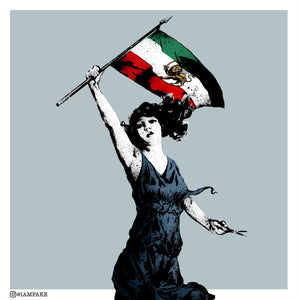 Highonspraypaint
Free Download: "Cut the Regime"
Regular price
€0,00
€0,00
Tax included.
WOMEN LIFE FREEDOM
Freedom for the Iranian people: end this regime
Brave Iranian women are cutting their hair in solidarity with Mahsa Amini, who has been murdered for not wearing the hijab correctly and therefore being in violation with the strict dress laws the Iranian regime imposes on women. People that speak out in Iran for their freedom and protest against the dictatorial regime are being brutally silenced, arrested or killed. Free the Iranian people from this dictatorship! I created this image to give support and empower their actions for freedom.
DOWNLOAD IT FOR FREE AND SHARE YOUR SUPPORT WITH THE WORLD
Stay safe and be strong! 
FAKE

*only for non commercial use
Copyright "FAKE Art" 2022
---
More from this collection